Bare Metal Servers has never been easier!
Simplify your hosting infrastructure with our server platform. Develop, deploy, and scale your applications faster and easier
The Benefits of a Bare Metal Server
Raw Performance
Unlock the full potential of raw dedicated server performance. You get access to the servers' full raw performance, which means no overhead, low latency and high disk I/O performance. This makes it the ideal solution for resource-hungry or time-sensitive applications that benefit from having no virtualization overhead from hypervisors or from the network.
Full customization
Choose your own hardware and create a server configuration that suits your needs. We offer you hardware from the top enterprise server vendors, like QCT and Fujitsu. Customization options include CPU, RAM, SSD, HDD, network port speed and more.
No Noisy Neighbors
A Dedicated Bare Metal Server solely belongs to you, unlike Public Cloud and VPS, where a physical server's resources are shared by hundreds of virtual servers. With a bare metal server you avoid the noisy neighbor effect, where one customer can impact the performance and stability of other customers.
Operating Systems
Get started quickly, deploy in less than 30 minutes using our automated install system.
CentOS
VMware
FreeBSD
Ubuntu
Debian
CoreOS
Oracle Linux
Rancher OS
Smart OS
Fedora
Fedora Atomic
Arch Linux
Other operating systems
If you want to install your own operating system or install Windows, feel free to use our KVM over IP solution that allows you to mount images directly on your server.
Custom iPXE
Apply your own custom iPXE script to run your own custom installer or operating system over network boot.
High Performance Network
Fast server connectivity options for both Internet and Private Networks
1G, 10G, 25G and 100G Server Ports
All servers come with a 1 Gbit/s port as default. If you need more throughput, 10 Gbit/s, 25 Gbit/s and 100 Gbit/s server ports are available at a very fair price.
Hardware Accelerated NICs
For our high bandwidth network options we provide accelerated network interface cards for low latency and high message rate. It provides cutting-edge performance in virtualized overlay networks (VXLAN and NVGRE) as well as Virtualization acceleration.
Flexible IP Addressing
Don't be constrained by your providers ability to handle IP assignments. With us you get the freedom to assign and route public and private IP addresses exactly as you want. Making your application work exactly as you intended it.
Public IPv4 and IPv6
Each server is assigned one public IPv4 and IPv6 address. You can manage reverse DNS (PTR) records for all allocated IP addresses by using our Dashboard.
Floating IPs
We provide floating public IP addresses that allows you to quickly remap IPs between servers and deploy high availability setups that incorporates failover.
Routed Subnets
We can route an IPv4 or IPv6 subnet directly to your server. This is especially useful if you are running virtualized internal networks on the server and want full control over IP assignments.
Bring Your Own IPs
If you have your own IP range you can use it with our dedicated servers. If you want full control you can even announce it from your server using BGP or we can simply announce it for you.
Bandwidth Included
Included bandwidth covers most needs. If you need a lot of bandwidth we provide some very favorable options.
30 TB Traffic Included
All servers include 30 TB of outbound traffic per month. Inbound traffic is unmetered.
Unmetered Private Network Traffic
We provide unmetered private network traffic across servers and availability zones, and you are free to use as much traffic as you want.
When it comes to bandwidth pricing, it is important for us to be as transparent as possible.
Our traffic rates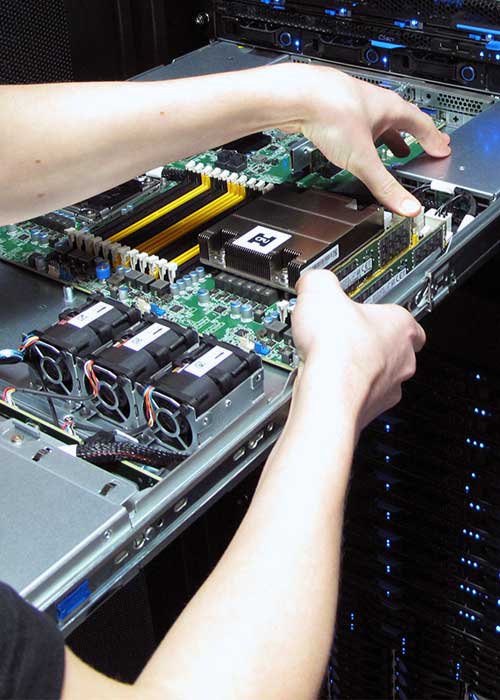 In-house Engineers Ready to Assist You 24/7
Our in-house technical experts are always ready to help with fast and knowledgeable assistance. You can consider us a knowledgeable extension of your IT department. We handle all requests with critical care, at any time, in order to resolve any trouble you might have.
Get the right assistance quickly
We understand that our customers are professionals. When you contact us you will talk directly with a 3rd Level Engineer who will be able to assist you in the best possible way.
Replacement upon suspicion
Your confidence in our servers are important for us. If you suspect there is a hardware problem with your server, we can replace the entire server or servicable parts for you.
Give us a call
We love to talk shop. If you have a question or working to find a solution on a project just give us a call on +45 4594 1401
ASERGO Dashboard
We provide you with an accessible and easy to use Dashboard. The Dashboard allows you full access your servers at all time.
Design Your Own Networks
You can design your own private network and connect it to servers of your preference. Add multiple networks to the same port using VLAN tags. You can create both Layer 2 and/or Layer 3 networks.
Read more
Stick to Your Budget
You will not encounter any unforeseen expenses with us. By signing a one month contact you avoid having to pay upfront for services that you require for a longer period of time. Another benefit of a monthly contract is that you can easily swap to a different server if your current server does not match your needs.
30 Days Contract
Get the freedom and flexibility that comes with a one month contract. You can pay for your servers automatically each month until they are no longer required. Termination is easy and we only require you to give us a notice of termination at least 1 day before the next contract period begins.
Seamless Migration
In case you want to upgrade your server, you will be awarded a one week period in which you can migrate data to your newer server free of charge. This way you avoid having to pay for two servers simultaneously.
Only Flawless Servers
All of our servers are rack-mounted server grade hardware, which undergo extensive burn-in and stress tests. This ensures that your server will perform flawlessly as soon as you install your preferred operating system on the server.